Our Tech Team works to its best to make the process of placing orders easy to follow. However, we cannot rule out the possibility that you need some guidance to place an order for the first time. We hope when you have questions this guidance will be of some help.
STEP I

Browse and Select the Item You Want
Suppose you need to purchase our 10" Whisper mattress in Full size. You need to hover your mouse over the dropdown menu "Mattresses", all options are displayed automatically once you do so. Then move your mouse cursor over Whisper Mattress and left click:

STEP II
Select the Relevant Information (size, quantity, etc)
With the click, you will jump to the detailed page of the Whisper mattress. On this page, you can select the right size and quantity.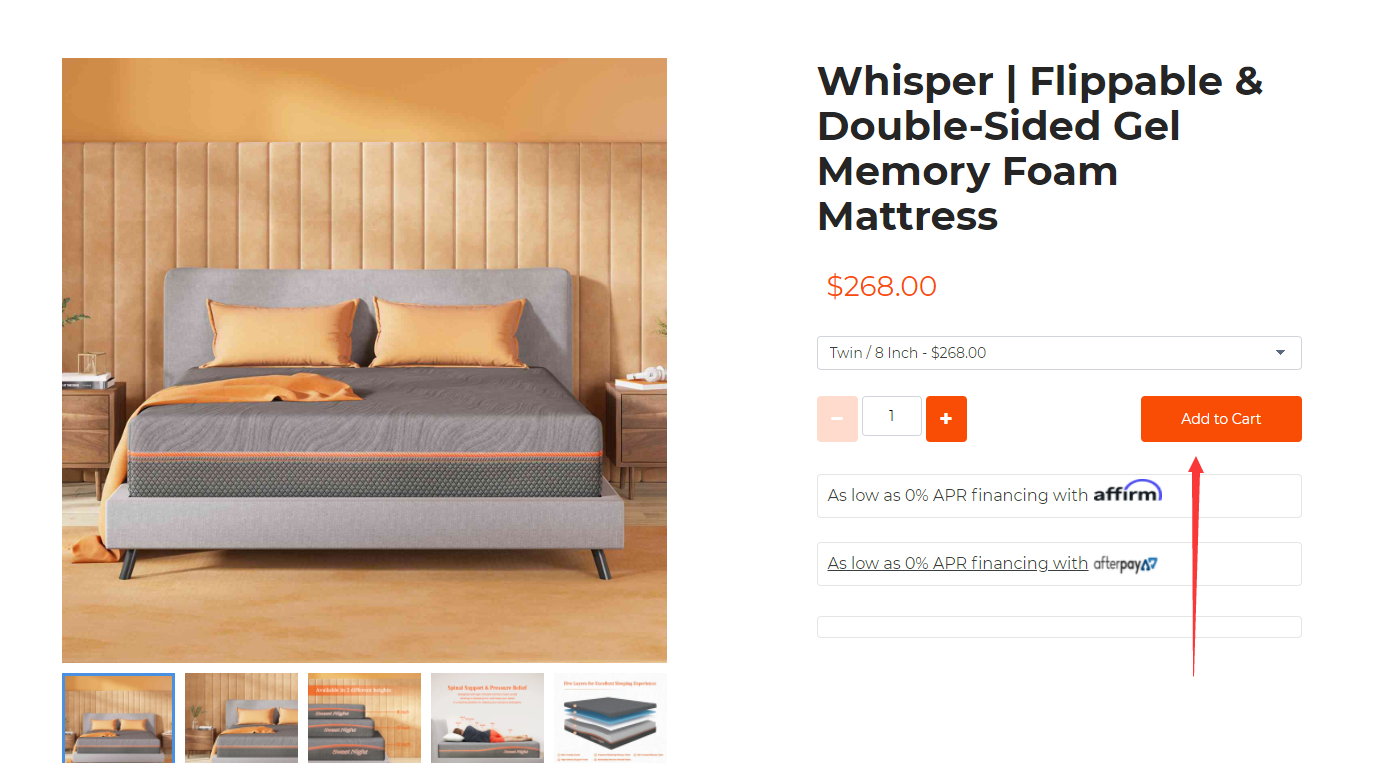 Once you finish selecting the size and quantity, click the "Buy Now" button to Continue Shopping, View Cart, or Proceed to Checkout. If you need to add more items, you can either click View Cart or Continue Shopping. Here we just take that the Whisper Mattress is all that we need, so we click the "Proceed to Checkout" button.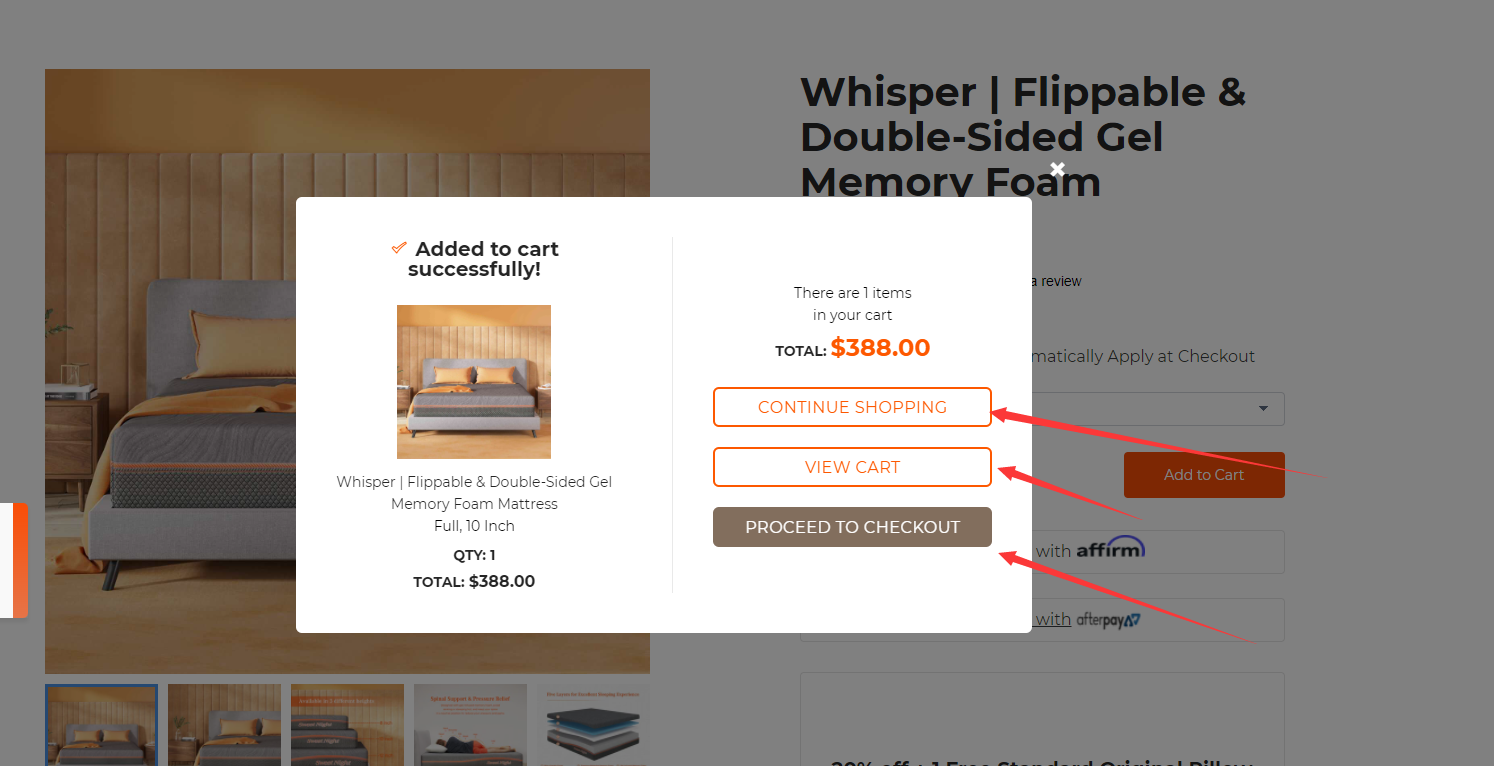 STEP IV
Use Your Coupon Code
After finishing your selection and going to your cart, you can use your "Discount code"(if any). Enter the code and click the "Apply" button, and you will get a discount carried on the Coupon Code. If you do not have a code, just skip this step and input all information needed for check out click the "Continue to Shopping" button, then you go to the next step.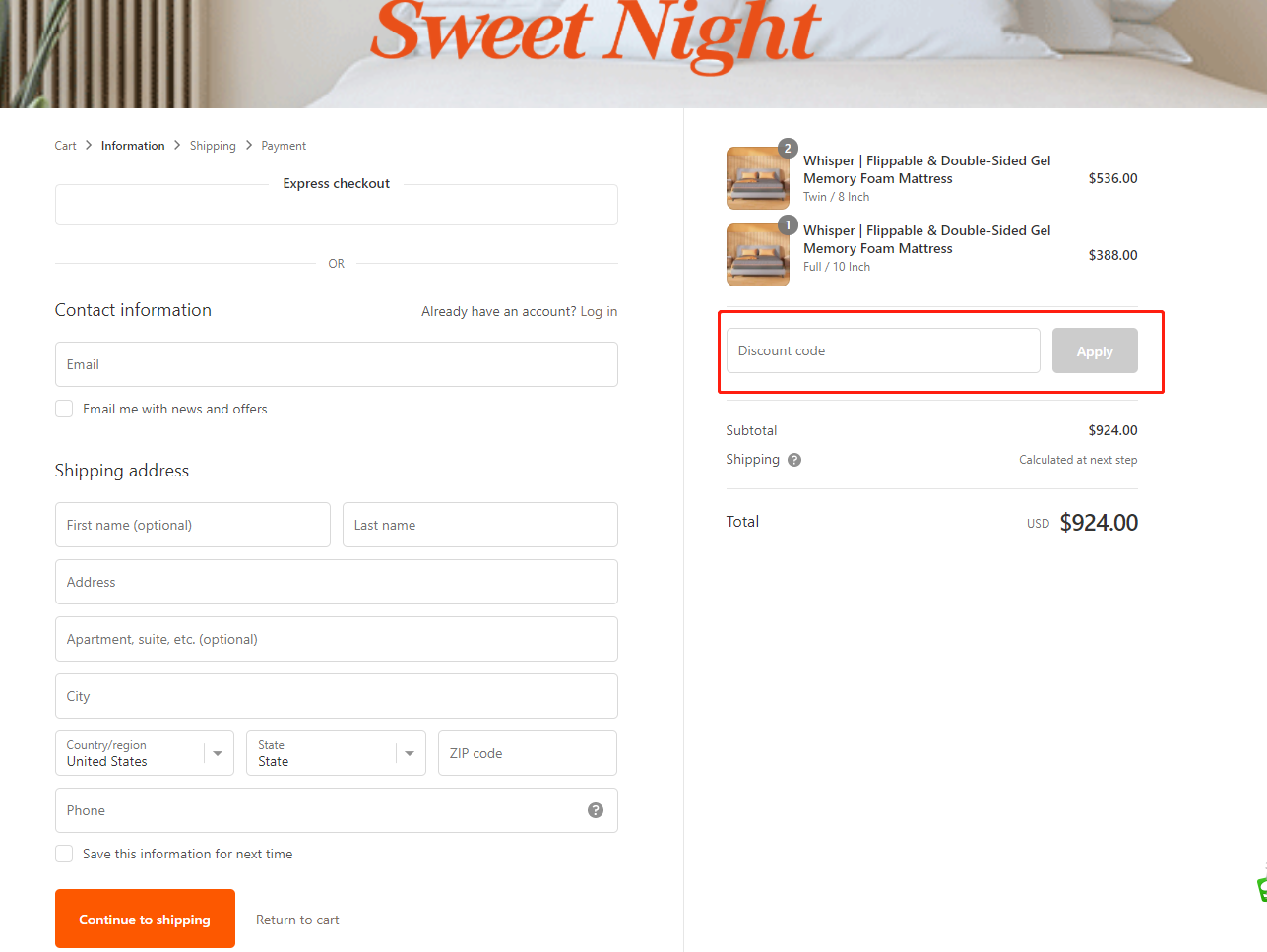 STEP V Verify Your Order Information and Select Shipping Method
After you click the "Continue to Shopping" button, it will jump to the page to verify your order information. If there is anything wrong, you can click the change button to get it corrected. If no update is needed, please select the shipping method you prefer. Here we don't want to pay extra shipping, so we select free shipping and click the "Continue to Shopping" button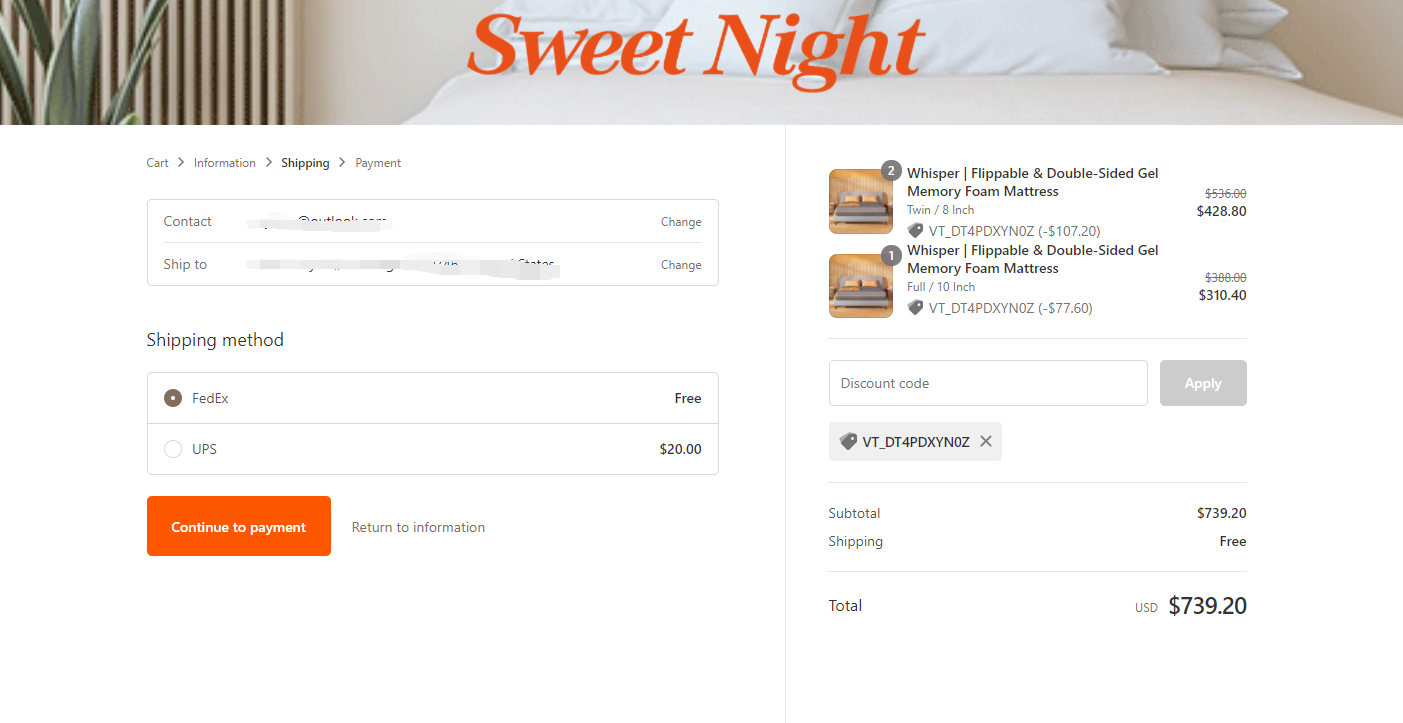 STEP VI Select Payment Method
After selecting your shipping method and clicking the "Continue to Shopping" button, it jumps to the page to complete your payment information.
1) Here you can pay directly via your Credit Card by inputting your Card numbers, Name on the card, expiration date, and security code.
2) You can also pay via Paypal if you would like.
3) You can also select Affirm, Katapult, or Afterpay to buy now and pay later.
Which payment method fits you better? It's up to you. Once you finish this information, you can clear your payment by clicking the Pay Now button.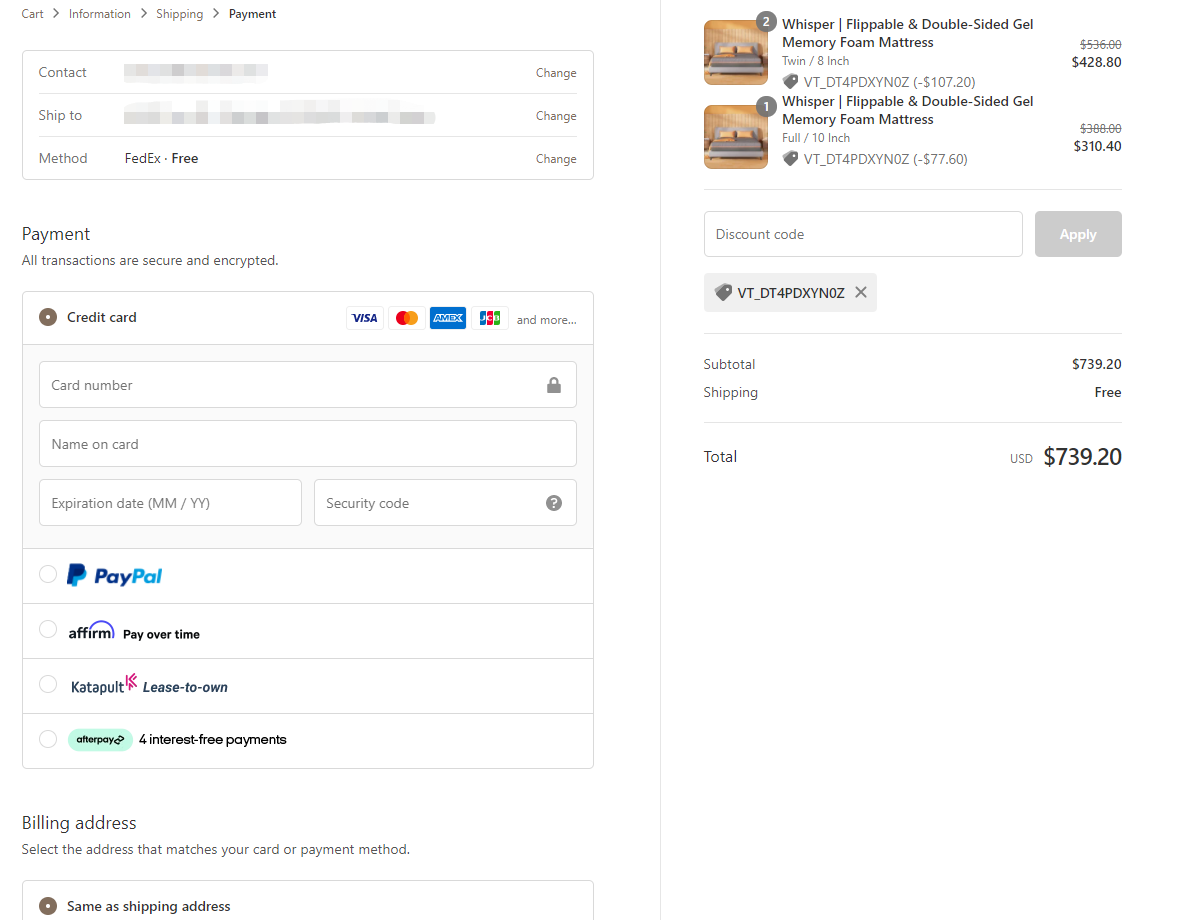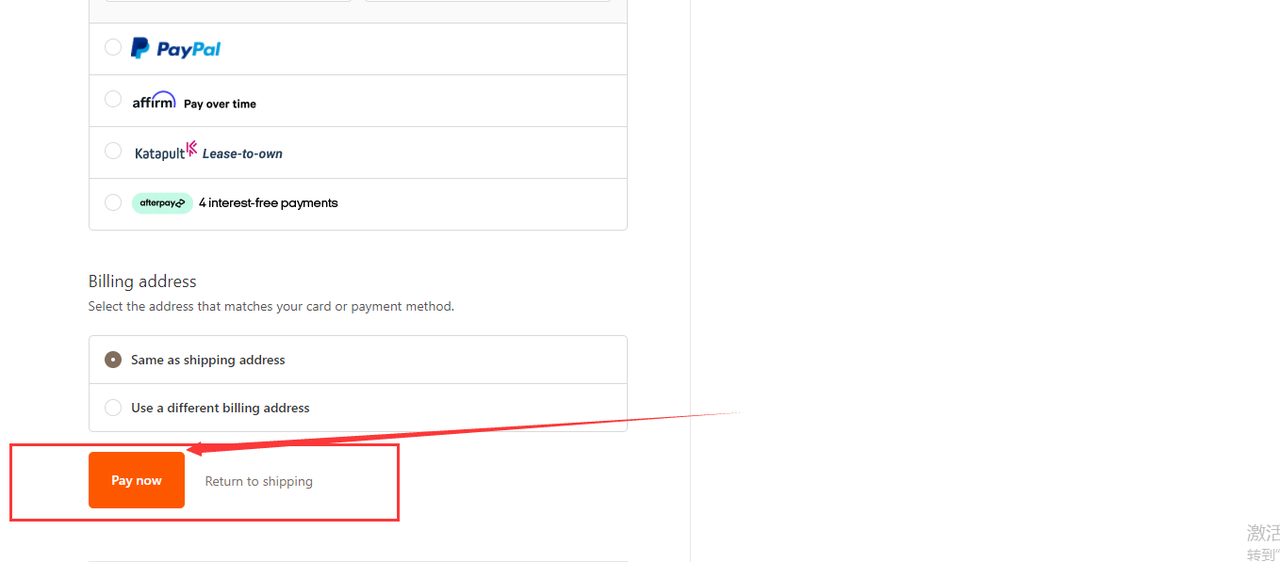 STEP VII Complete Ordering
Once you finish all these steps and get your orders paid, all you need to do is to wait for your items to arrive! Of course, you can contact us if you have any questions!